Have you lost your confidence to smile?
Do you have missing or loose teeth, or uncomfortable dentures?
If so, Next Smile has a solution
See why All-on-4® Dental Implants are the closest thing to having your real teeth back that modern dentistry can provide.
Complete the form to watch Dr Barry Phelan explain the All-on-4® process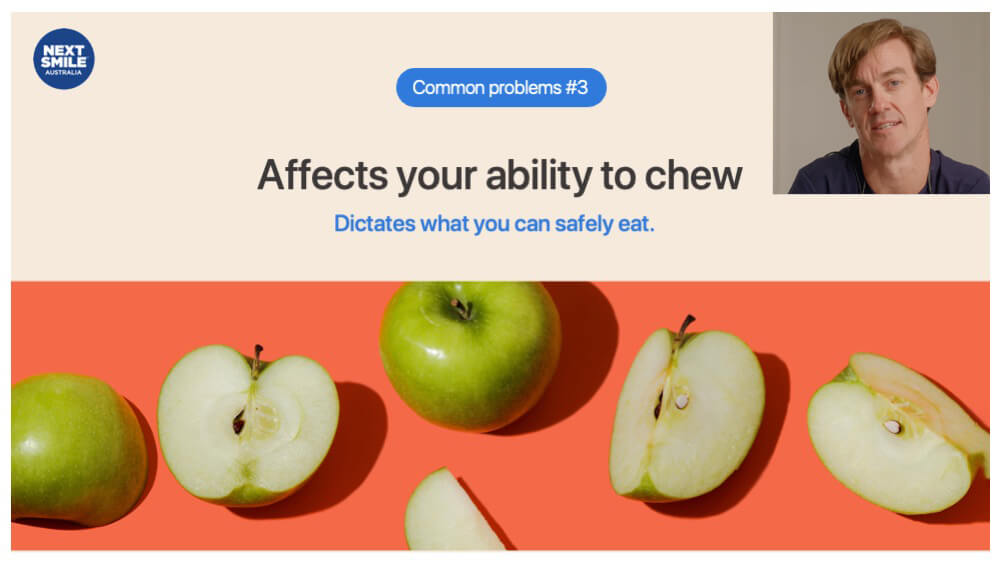 or if you're ready to speak to our team now.
Complete the form to watch the webinar now
By the end of this free 30-minute online webinar, you'll discover:
How to look years younger... Instantly. Permanent teeth replacement can reverse the appearance of premature facial ageing by decreasing wrinkles caused by missing bone and tooth structure... and we'll show you our patients' before and after results to prove it.
Learn the controversial truth about dentures - why it's NOT a replacement for missing teeth (even if it's advertised that way). In fact, they can cause more trouble for users than they fix. This is the #1 reason why our patients are so grateful that they're not stuck using dentures for the rest of their lives.
Find out how over 250,000 patients around the world, including thousands of our patients in Australia, regained their ability to eat all their favourite foods and smile a natural-looking smile with All-on-4® Dental Implants. It's so close to the real thing that they forget they weren't born with them!
Discover the reason Next Smile Australia is Australia's leading team of All-on- 4® Dental Implant dentists (and why our treatment process is considered the All-on-4® Dental Implant Gold Standard, with a 98% success rate*).
Learn about the unexpected consequences when missing teeth go untreated... and how it triggers potentially more serious health problems down the road.
You'll learn why Next Smile Australia All-on-4® Dental Implants are outstanding value and more affordable than most people realise.
Whether you're a suitable candidate for the treatment and what can be done for you, even if you've previously been told that you have limited treatment options.
PLUS, anyone who watches the webinar will receive an offer from Dr Barry Phelan of an All-on-4® Dental Implant Smile Assessment, free of charge.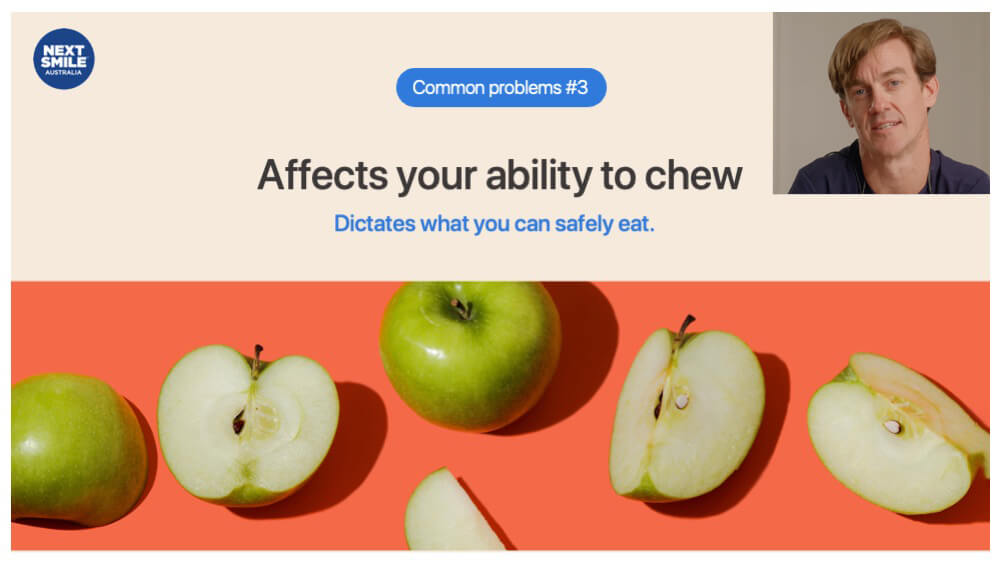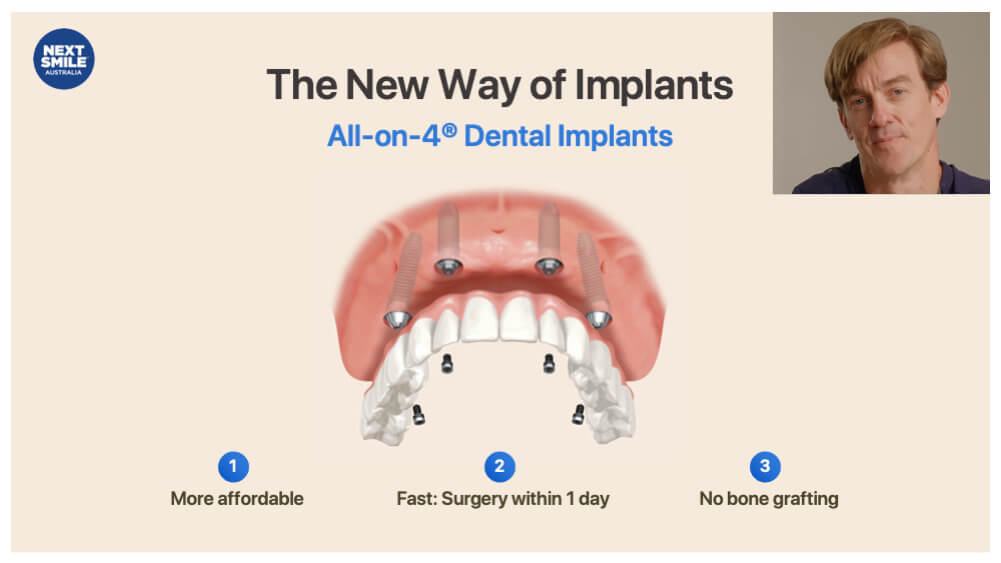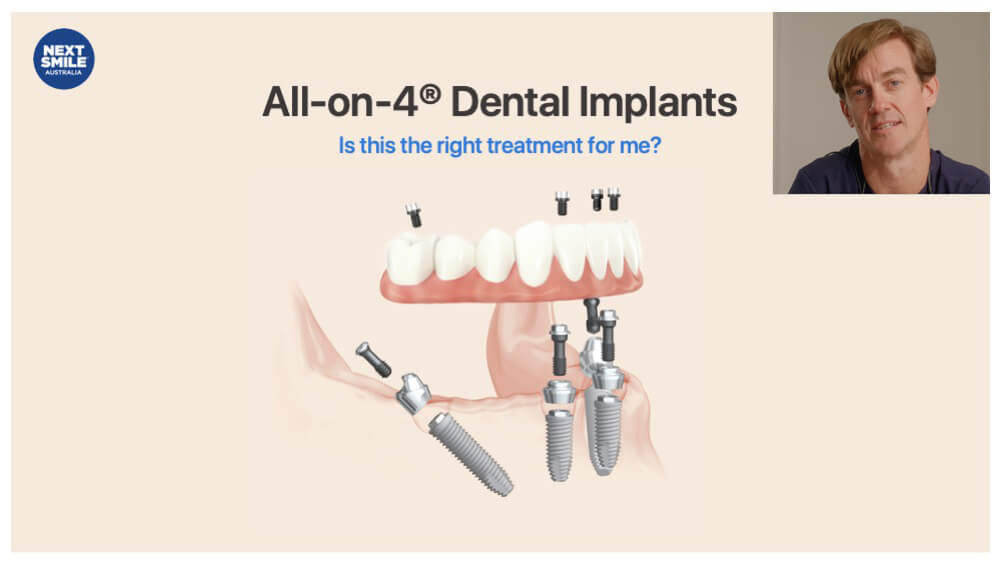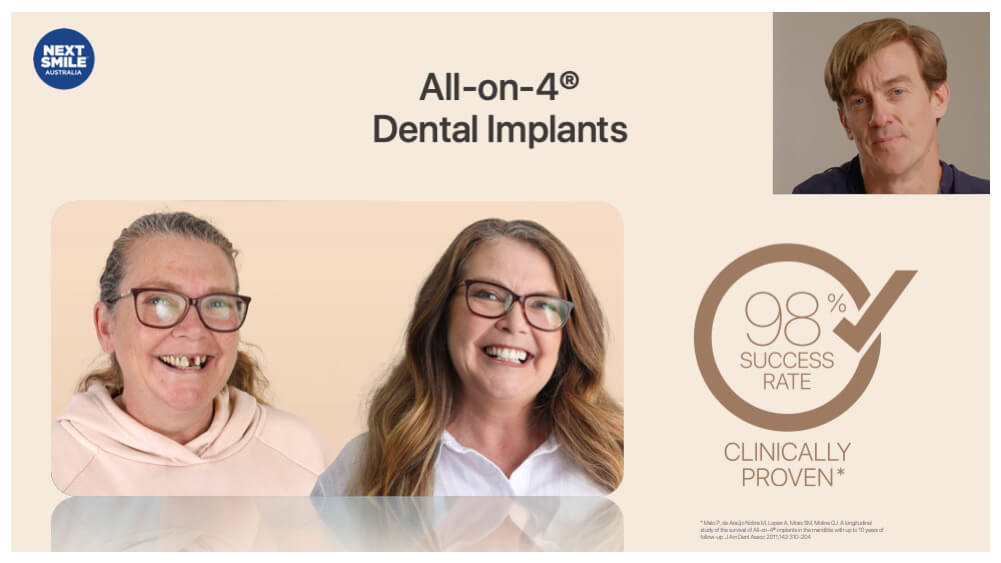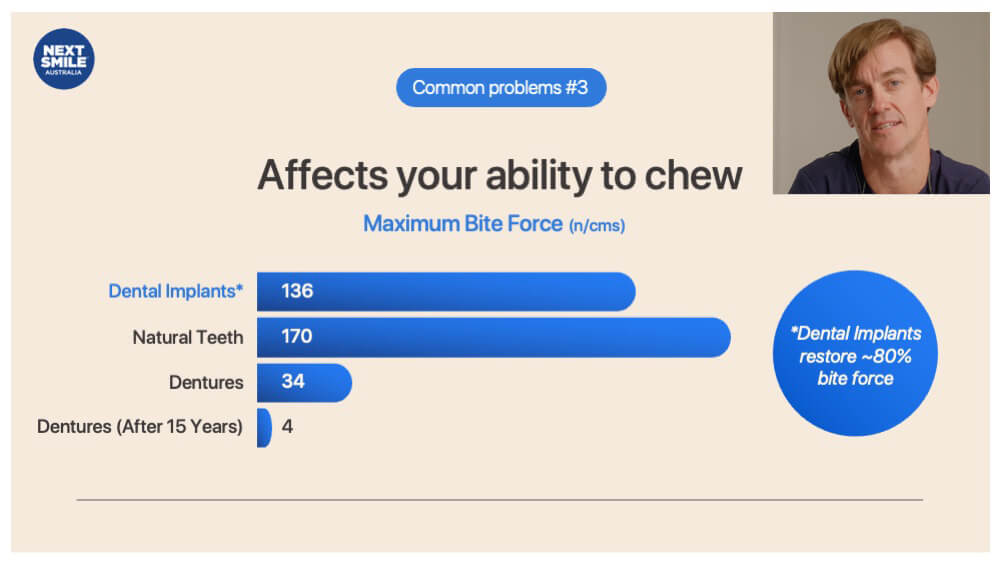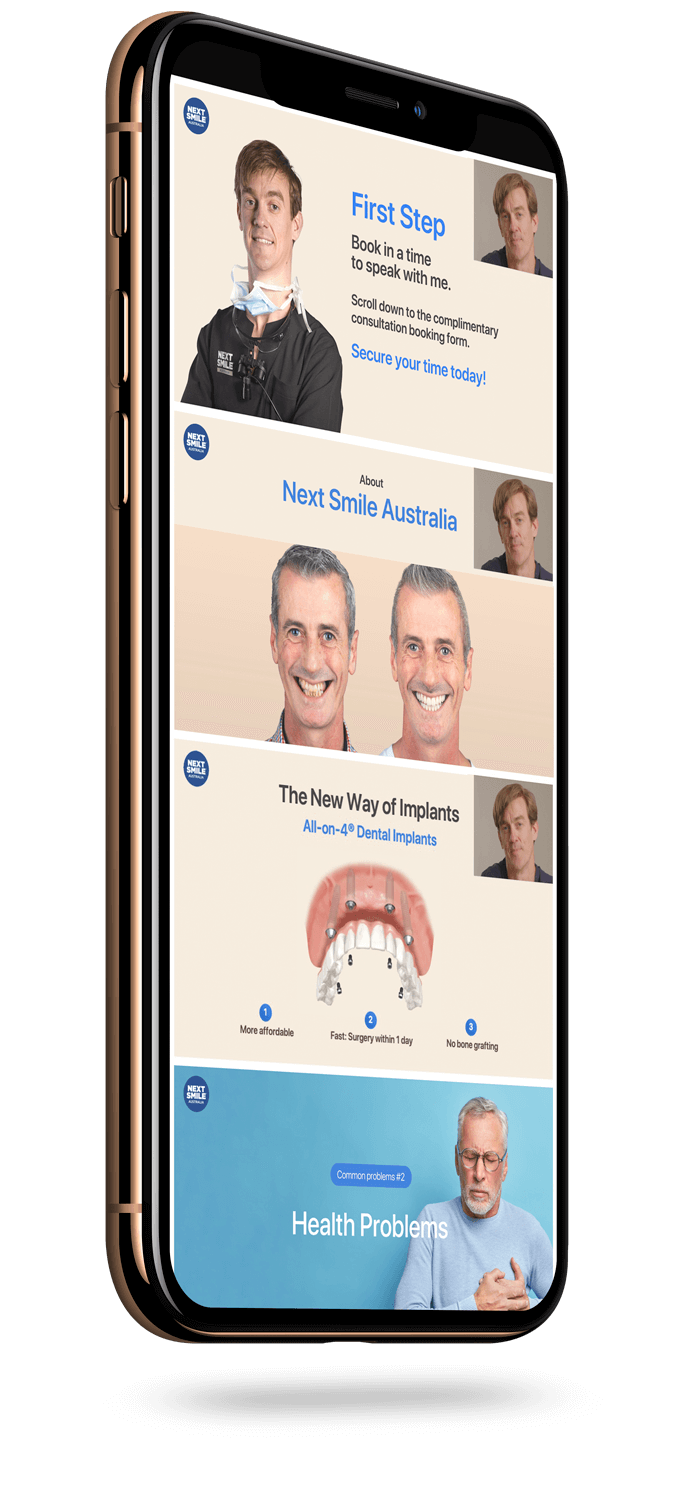 Nothing to download. Just grab a device and click to watch now.
Simply enter your details and you can watch the webinar immediately. There is nothing to download beforehand and no waiting.
Next Smile Australia | Awards & Media Coverage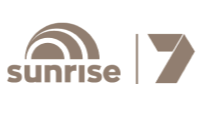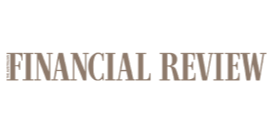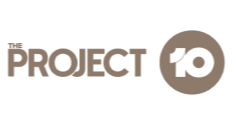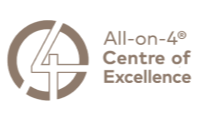 Real All-on-4® Dental Implant Patients from Next Smile Australia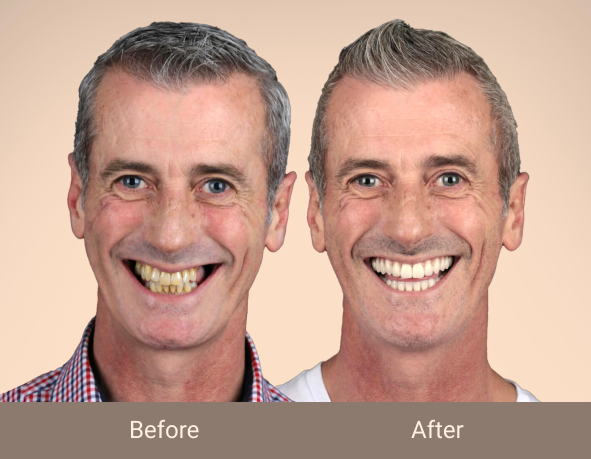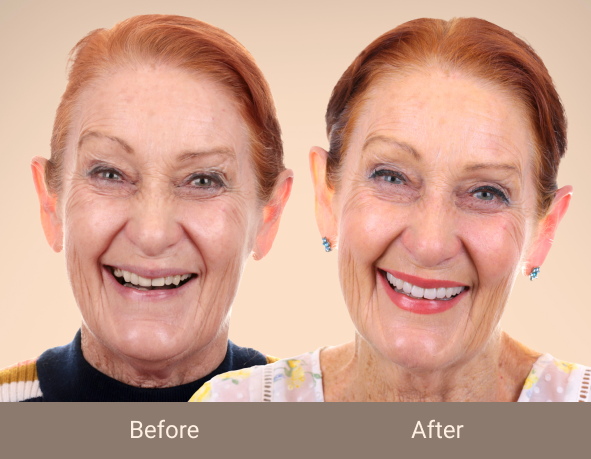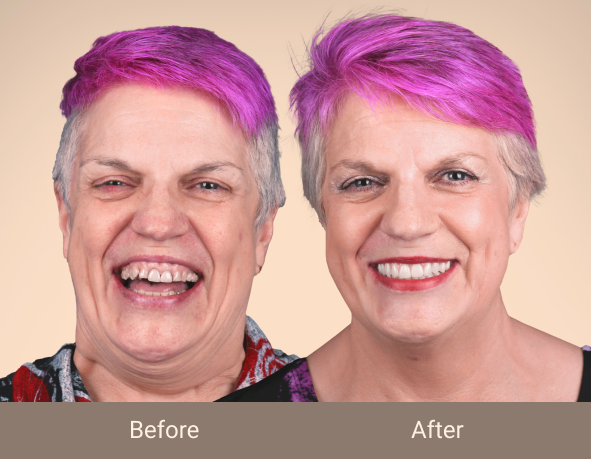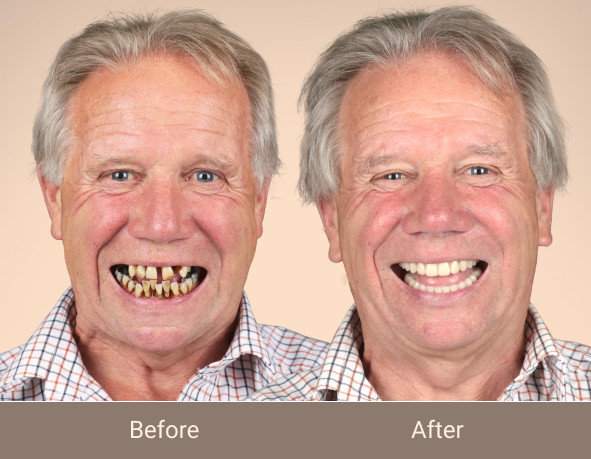 What our Next Smile Australia patients say
My teeth look and feel great!
No pain either.
I can't speak highly enough of all the staff at Next Smile. They were very attentive and informative, with excellent preoperative instructions and postop follow up. Their relaxed and confident manner calmed me through it beautifully. Thank you all so much.
Sue, Regional Vic
Non-incentivised Review
Thank you for restoring my confidence
My only regret, I didn't have All-On-Four® done sooner. From my original phone enquire to the day they fitted my permanent beautiful new teeth the service has been amazing.
Every step in the process was clearly explained and the staff are so professional friendly and caring.
I absolutely love my new smile. 😁
Kimberley Williams, Melbourne
Non-incentivised Review
#True Professionals !!
Easy 5 🌟 's !!
Loved the way you treated myself and my family like your own !!
And the results on my new teeth 100% so happy with the outcome. Thank you so much to the Next Smile team.
Chris Buckley, Sydney
Non-incentivised Review
Meet the Next Smile Australia Wollongong Team
Dr Barry Phelan
All-on-4® Surgeon - Next Smile Australia Wollongong
Dr Phelan graduated with honours from Trinity College Dublin, Ireland, in 2004 and worked in a private dental practice in London for a couple of years before seeking sunnier shores in Australia in 2006. He has a strong interest in restorative and implant dentistry and has pursued extensive further education and expertise in these fields. Dr Phelan has placed close to 1000 implants since 2013 and is thrilled by the way All-on-4® treatments help transform people's lives, self-esteem and smiles.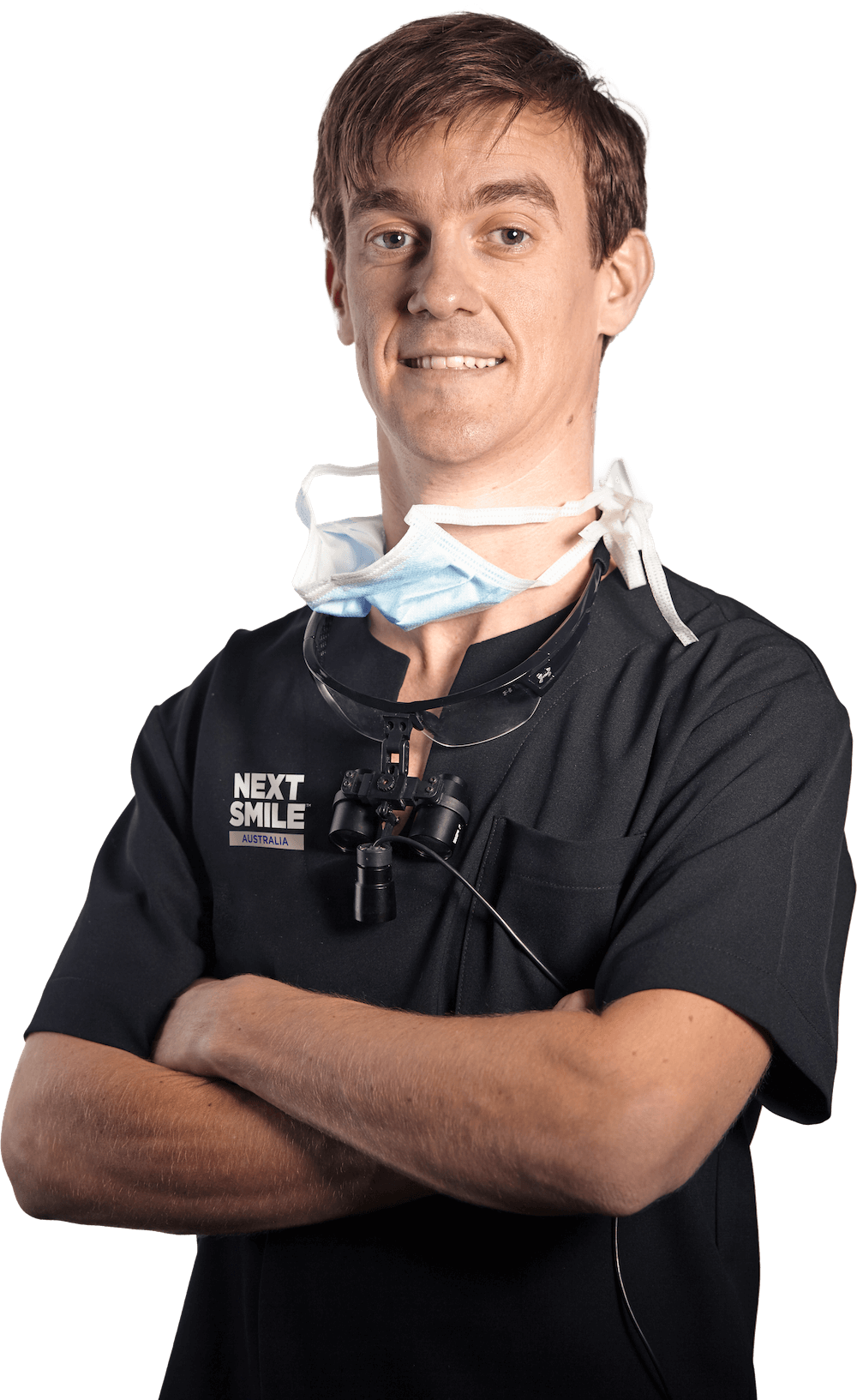 Dr Barry Phelan was trained in the All-on-4® Marlo protocol, created by Professor Paulo Malo (The Inventor of All-on-4® Dental Implants). The Marlo protocol is the Gold Standard for All-on-4® Dental Implants and the only clinically proven protocol to achieve a 98% success rate*.
Dr Barry Phelan and his team place a lot of emphasis on your specific patient journey. They understand what it takes to create an outstanding patient experience and aim to make every part of your journey as exceptional, stress free and comfortable as it can be.
Dr Barry Phelan is a fellow of the International Congress of Oral Implantology, the Misch International Implant Institute, and a member of the Australian Society of Implant Dentistry.
Dr Barry Phelan brings an industry leading level of knowledge to his patients at Next Smile Australia Wollongong.
Experience the Next Smile Australia Difference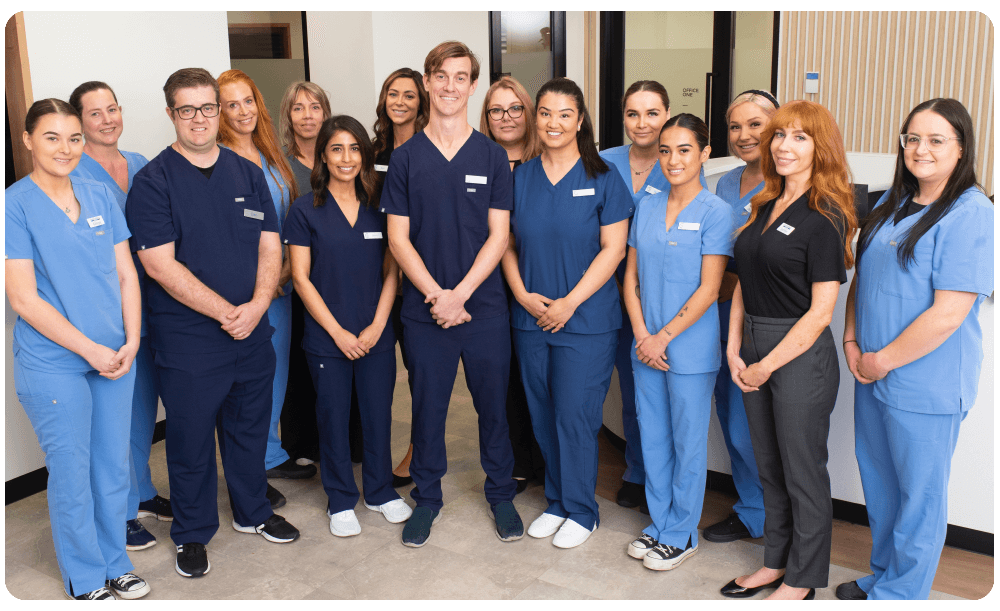 Our Care for Your Quality and Safety
Our high level of quality, care and safety is achieved through our strict adherence of the Malo Protocol. It is the original method of performing All-on-4® Dental Implants as intended by Paulo Malo, the founder of All-on-4® Dental Implants.
It is the only protocol that has a 98% success rate* and is clinically proven by over 25 years of clinical research data.
Above all else, our priority is for you to feel safe and comfortable throughout the entire treatment process.
Purpose-Built Facilities
More than a standard dental practice, the Next Smile Australia Wollongong Super Clinic has been custom-designed to perform All-on-4® dental implant procedures. The clinic is fully equipped with premium amenities and leading-edge equipment, which ensure our team can deliver your All-on-4® treatment safely and effectively.
Next Smile Australia Wollongong All-on-4® Super Clinic has been created with our patients in mind, offering a seamless, reassuring path to a stunning new smile.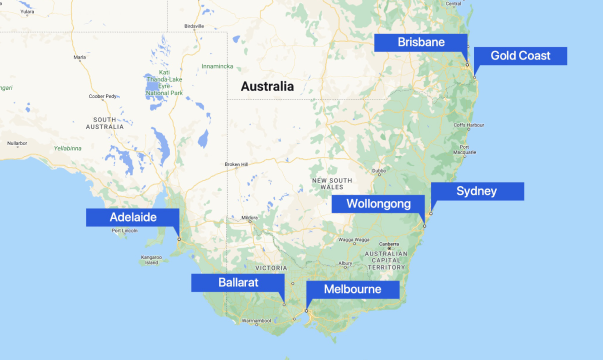 Nationwide After Care
We're proud to provide patients with the best possible post-treatment care available. As a national brand, you can feel confident in knowing that no matter where you are in Australia, you'll be close to a Next Smile Australia facility if you relocate.
And if you relocate overseas, we have global partners we can connect you with, so you know you'll always be in the best possible care.
Everyone should have access to quality All-on-4® Dental Implant advice and care.
We service the southern region of New South Wales and have a clinic in Sydney or Melbourne for All-on-4® Dental Implant Consultations.
Wollongong Super Clinic Location
Our Super Clinic in Wollongong houses our purpose-built All- on-4® Dental Implant surgical facility, including 3D imagery machines and our onsite prosthetics laboratory.
ADDRESS
426 Princes Highway Corrimal NSW 2518
OPENING HOURS
Monday to Friday: 7:30 AM – 5:00 PM
Saturday: 8:00am 1:00pm
Sunday: Closed